February 26, 2019 6:01 pm
Having reviewed how Christmas POS is being used in almost 60 stores leading up to Christmas 2018, it was an opportunity to evaluate how consumer trends are shaping the wider POS industry. Here are five identifiable trends to consider.
Leveraging Integrated Marketing Communication
The focus on Christmas ATL advertisements continues to grow in influence from year to year.  These seasonal showcases are extensively evaluated across press and social media channels, their importance and reach are influential.  It has however taken some time for these to become integral to instore campaigns and Christmas 2018 saw the strongest integration to date.  The extent by which they are leveraged is variable, ranging from the solitary use of the tagline on key Christmas POS, "Everyone's Welcome" in Tesco, to a totally immersive experiential offer in John Lewis Oxford Street.  In John Lewis shoppers had several opportunities to get involved in the story, from stage set walks throughs, to the opportunity to play the piano used in the advert.  Amongst others, these sets provided an opportunity for brand sponsorship for Yamaha and Google Home. Christmas POS took a supporting role to communicate and deliver the message.
Ensuring brand visibility
In the grocery channel in particular, it is harder and harder for brands to stand out using traditional forms of POS as retailer templates increasingly dominate.  This approach does little for either the brands or the shopper as brand colour cues are a navigational aid.  Ferrero Rocher leveraged the strength of brand colour exceptionally well through Christmas POS and product presentation, but take this Cadbury example, their visibility is significantly reduced as it is diluted by the store surrounds.
Again, John Lewis Oxford Street leads the way and provided examples of how brand amplification can work.  Quality Street and Fever Tree each had a tailored pop up shop with exceptional Christmas POS and fixture design to magnify the brands.  In simpler forms there is no reason why this shouldn't extend beyond London's boundaries.  Coca-Cola had a large interactive digital screen which they moved between some Asda stores.  It offered a gaming opportunity for shoppers, putting the brand firmly at the top of the shopper's mindset as they began their shopping routine.
Digital communication
As today's shopper is increasingly immersed in a digital world, it is an obvious fit for retail.  Asda George use digital extensively in Cribbs Causeway, placing large screens on ceiling, wall and gondola end space to show modern, seasonalised video content.  Hawkins Bazaar integrated small digital screens on FSDUs and at shelf edge around the store.
But, in reality digital is still not widespread, its cost an obvious barrier, so the opportunity for card based POS is secure for the foreseeable future.  Maintenance and ROI is also an issue, so it was encouraging to see a higher percentage of working screens this time round.  Retailers have the advantage of ensuring higher compliance (working screens) on their own screens than that of brands.  It is easier for retailers to manage and control their own equipment than that of a third party, and accountability is also a consideration.  The only non-working screen in the sample was for Pokémon in Smyths, this serves to illustrate that if brands go down this route a maintenance strategy is critical.
Of the screens included in the review, almost all exhibited videos on a loop.  Coca-Cola's mobile screen was the most interactive digital experience, the game encouraging engagement with the brand.  The screen was manned, to help overcome initial shopper shyness.
Wine brand 19 Crimes used FSDUs in Asda to communicate the App driven AR experience on their bottles. This is a progressive initiative.  Of course, budgets are a limitation, but illustrating this digitally on the unit would be golden and at least worthy of trial.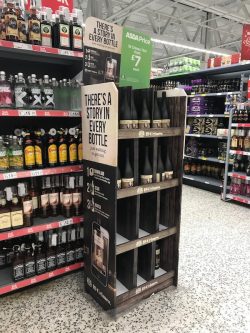 Appealing to shopper consciousness
From a consumer perspective responsible sourcing is increasingly important and the remit is wide.  In the retail space this is predominately driven by grocery and some beauty retailers, and in relation to sustainability.  In reality however there has been no major shift of focus by the wider retail or brand network in comparison to previous Christmas campaigns.  The commitment to and messaging conveyed, is arguably not keeping pace with the increase in consumer consciousness.
Year on year Body Shop beats the drum loudly as these wider issues are core to their seasonal campaigns. "Give back to nature this Christmas" drove their gifting messaging, totally tapping into, even helping drive today's consumer consciousness.  The Christmas POS creative was a direct copy of the icons used in their ATL advert, Christmas trees had both a seasonal and environmental message to convey.
While grocers drive sustainability messages, this doesn't go much further than fresh food.  M&S and Morrisons highlighted British provenance on their seasonal vegetable POS in the iconic form of a heart shaped Union Jack.  Lidl have strong provenance messaging in fresh food too and large POS carries these compelling sustainable messages.  It was unfortunate that these messages weren't seasonalised.  While the message is the same regardless of the season, the numerous templates across the relatively small store footprint did little to strengthen or contribute to the overall Christmas campaign.
Bricks versus clicks
Operationally, omni-channel shopping is well cemented in and still communicated in store to varying extents.  Asda still convey their website address on Christmas POS directing shoppers to their wider range. In Argos the proportion of in-store messaging communicating delivery routes is high when measured against other seasonal and product messaging.  While the Argos delivery message was largely generic in design, there were some nods to the season through the words used rather than creative design which is an alternative consideration.
Aside from the wider omni-channel offer, if brick stores are addressing the shift towards online, it isn't obvious how this is being done, as little has truly changed over the years.  The shopper experience is streamlined and uniform and this continues the same.  Even in 2018 there was still negligible evidence of retail-tainment on any scale, events to inspire, educate or entertain. John Lewis Oxford Street gets closest. This is powered by their ATL message and brand sponsorship to help with delivery.  Even so, this is London centric, so four-fifths of the population are not being included.

Above everything else, retail-tainment in its many guises provides one of the biggest opportunities for Christmas 2019, potentially a collaborative approach between brands and retailers. Look no further than Quality Street in John Lewis as an example.  The innovative display space was captivating.  Oversized sweets hanging from the ceiling and large floor standing tins accommodated digital screens.  These were a few of the aspects which encouraged shoppers to queue and pay up to £15 for a tin of Quality Street.

This summary is based on the findings from our 2018 Christmas Snapshot Guide.   The full report contains around 850 photos from c.60 retailers across a range of channels.  If you would like further details about the report email hello@posinsights.co.uk

Tags: Christmas POS 2018: Emerging trends


Categorised in: POS

This post was written by Dawn Odoi